Great Lakes Bengal Rescue is a 501c3 nonprofit organization dedicated to rescuing and finding permanent homes for Bengal and Bengal mix cats. We serve Illinois, Indiana, Iowa, Michigan, Minnesota, Ohio, Kentucky, Tennessee, and Wisconsin.
Our featured cat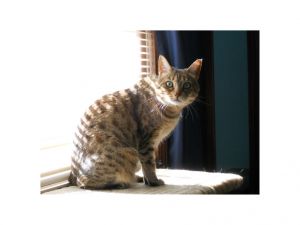 Minky is a pretty brown spotted, spayed, declawed, 10 year old bengal. She is fine with adults but has not been around other cats or dogs. We did adopt her out to a family that had one young child and while it seemed she would do fine at first she was stressed out and had to come back into foster care. She takes a little while to become comfortable in her new home but settles in nicely once she has a bit of time. She likes being petted and brushed and loves to play. Read more about Minky and our other available cats here.
Bengal Rescue Network
The Bengal Rescue Network (BRN) is a national organization of volunteers. All of its members are active Bengal cat enthusiasts who truly care about these cats' health, welfare and happiness. We hope to ensure that NO Bengal cat roams the streets, goes hungry, sleeps in the cold, requires attention, lacks affection or remains alone to face an uncertain future.
Join the Bengal Rescue Network email list at Groups.yahoo.com/group/bengalcatrescue . This list can put you in contact with regional contacts for your area. Many cats are listed through this group email which MAY NOT be listed on Petfinder.
---